---
A unique watch with a strong symbol for 2020 
Since ancient times, snakes have been a symbol of fertility, rebirth, guardianship and healing.
In Greek mythology, Asclepius - the god of healing - was often described standing with a rod having a snake coiled around it. Known as « The Rod of Asclepius », it became the symbol of medicine.
In this very peculiar and troubled period of times we are all facing, we wanted to create a piece with a strong symbolic of hope. Choosing the figure of the snake seemed ideal and meaningful for our project.
This model is the starting point of an upcoming series of animal themed unique pieces that will be unveiled, one-at-a-time, in the course of the year. Each animal design will be available in a few color schemes, each time unique.
To make the most of the demanding technique of cloisonné enamel and to challenge ourselves, all the animals for this series will be species covered in scales.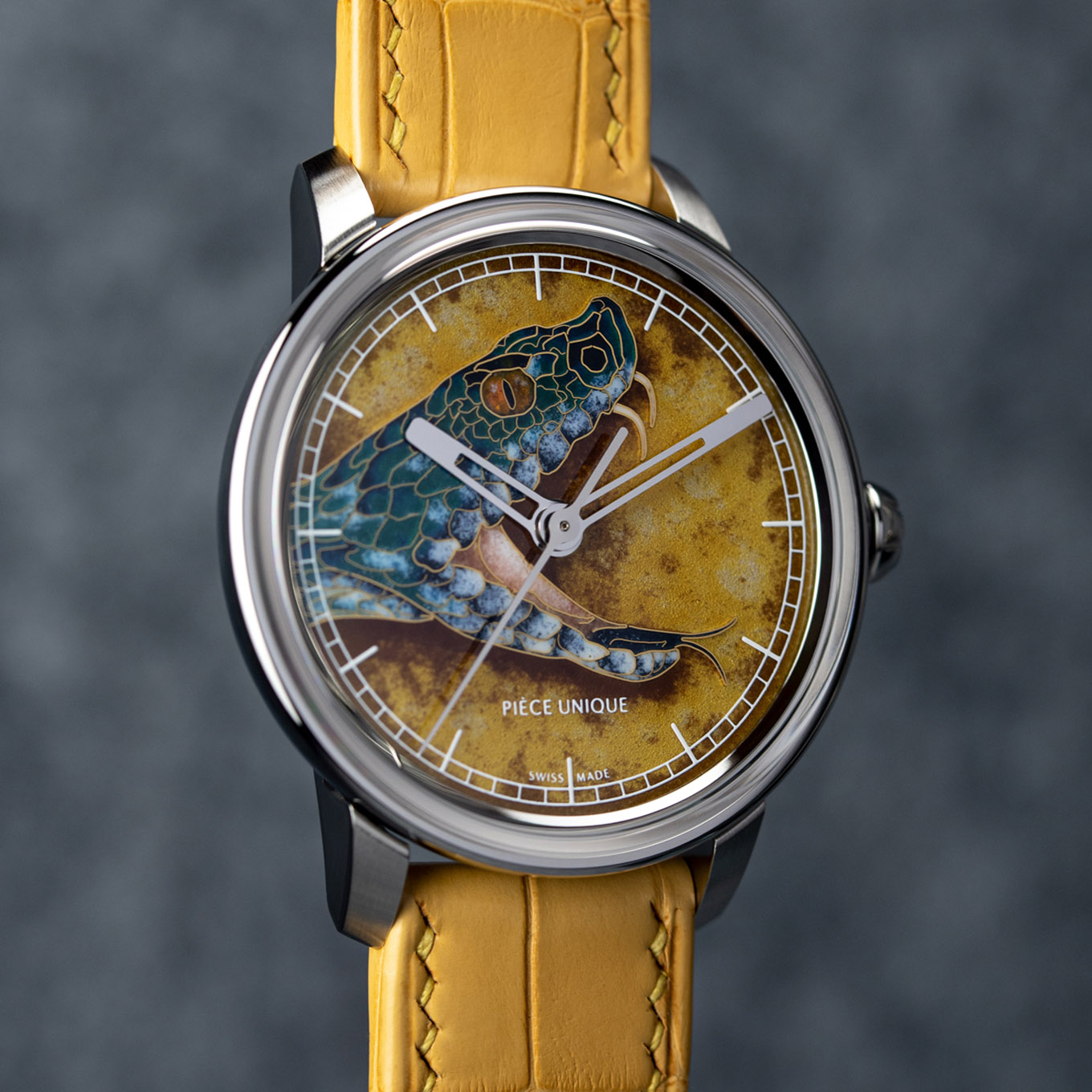 ---
About the Ref.1120-UP "Vipera Aspis Blue Green"
The viper (vipera aspis) and the cloisonné enamel technique were selected as key elements for the unique piece that we are proud to share with you today: the Ref.1120-UP « Vipera Aspis Blue Green ».
The star of this model is, without a doubt, its cloisonné enamel dial. Measuring Ø34.00mm for just a bit less than 1.00mm in thickness, it was entirely handcrafted at the Lundis Bleus workshop.
To create the viper, no less than 107 fine gold wires, sometimes shorter than a millimeter, were shaped by hand. The total length of gold wires is about 45cm*.
In addition, 15 shades of transparent and opalescent enamels were used in thin layers to give the dial its colors. 9 firings at about 830°C were required before we could carefully polish the surface to make it flat and perfectly shiny. The last operation was to pad print a minute track and the mention "PIÈCE UNIQUE".
Even by working full time on it, such a dial still requires nearly 3 weeks of meticulous labor to be finished and this doesn't include the high failure rate that is part of manufacturing any kind of enamel dial!
This model comes with our Ø40mm polished stainless steel case and is equipped with a Swiss automatic movement Sellita SW300-1 Premium. The flat and polished hands are plated with rhodium.
A beautifully handmade light mustard alligator leather strap harmoniously completes the watch. On the back, the electric blue lining is also made of genuine alligator.
The dial can be admired through a box sapphire crystal and the movement is partially visible thanks to a blue mineral crystal on the back that echoes the color of the lining of the strap.
*17 wires of 0,10mm for ~20cm + 90 wires of 0,05mm for ~25cm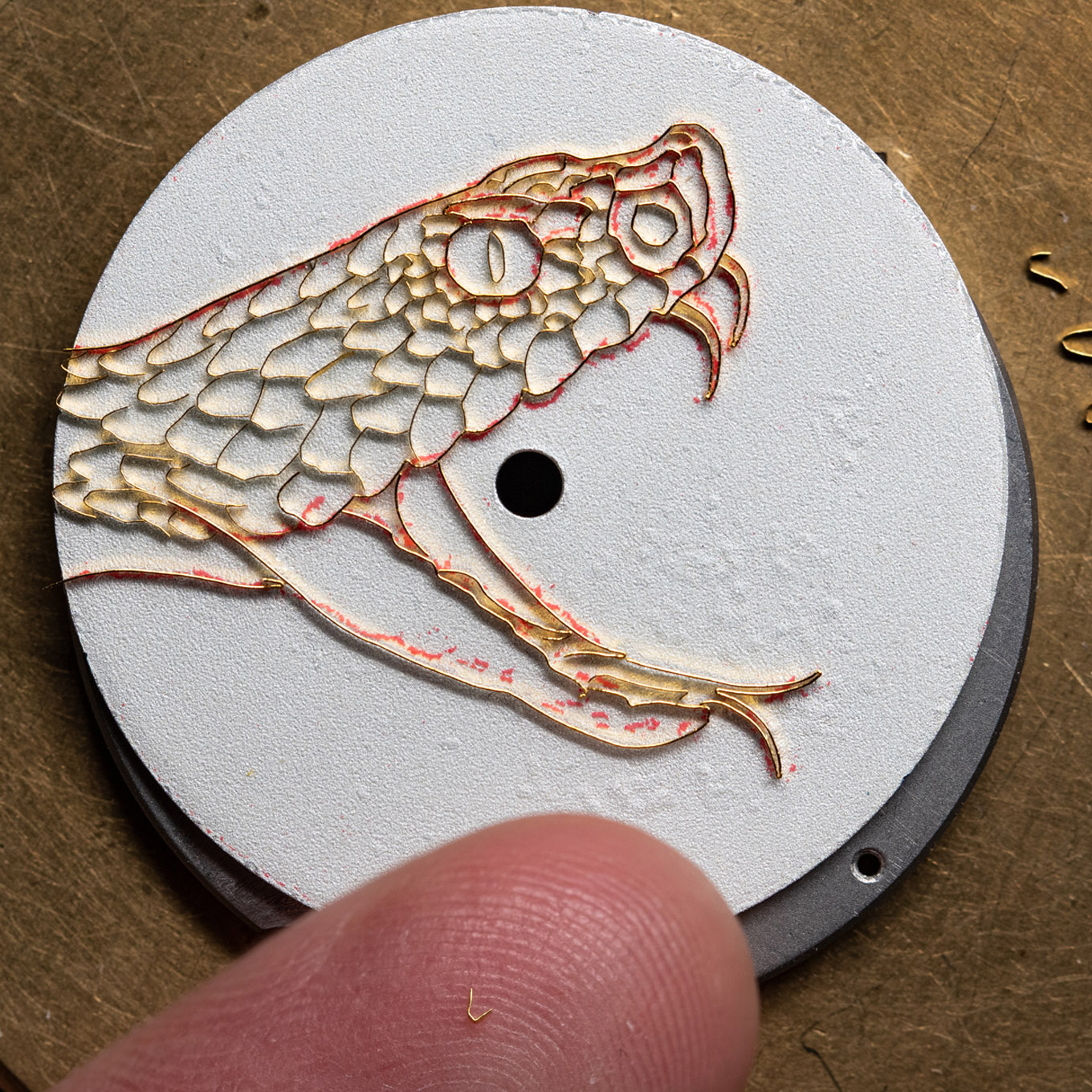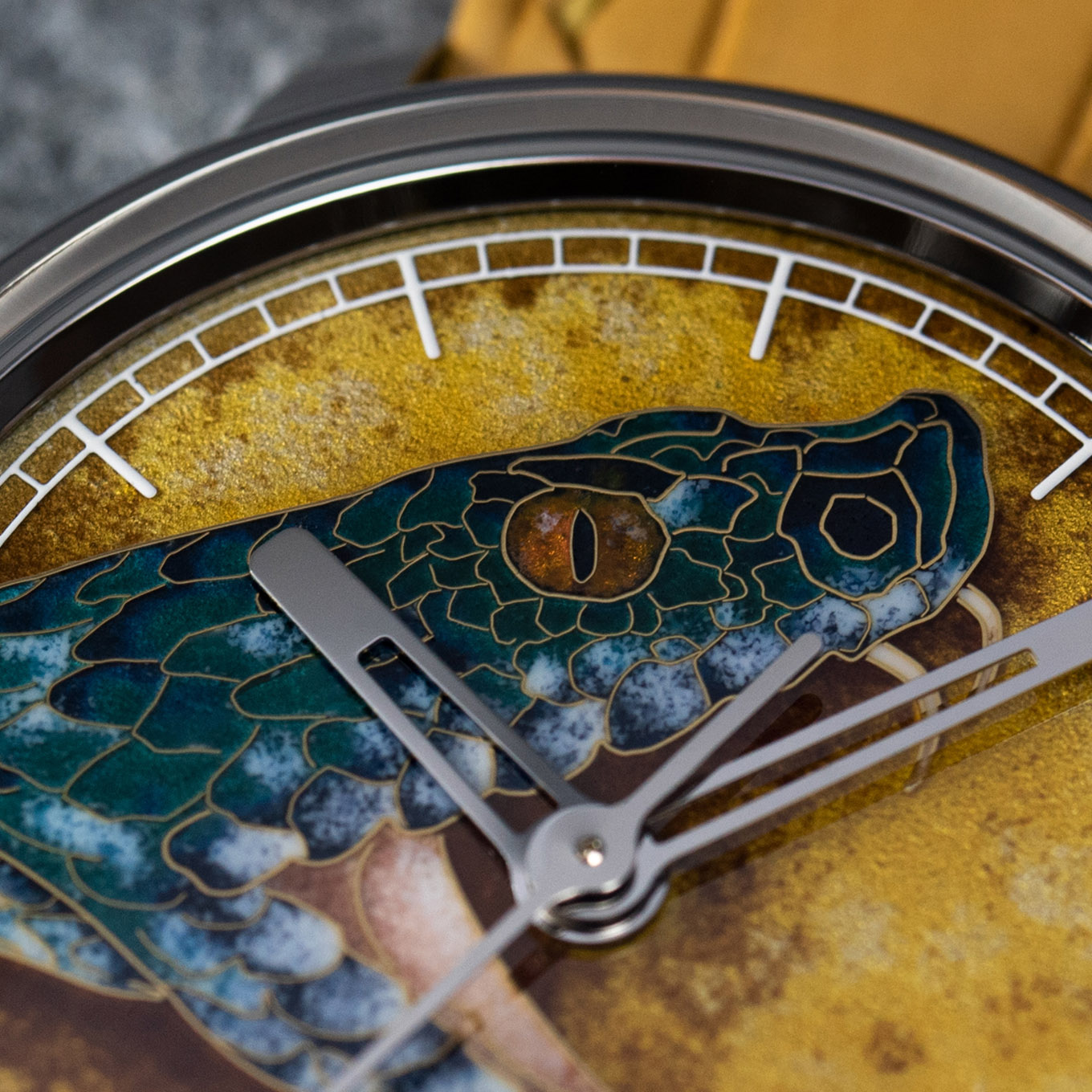 ---
The cloisonné technique, in short
The cloisonné technique, in short Used by enamellers since ancient times, the cloisonné technique consists in creating, by hand, the outlines of a design with many thin flat wires, and fire them onto a metallic base.
The shapes created - also called cloisons, hence the name of the technique - are filled with thin layers of vitreous enamel (a type of glass), then the dial is fired in a kiln at about 830°C (1530°F) for a few minutes to allow the enamel to fuse and bond to the metal.
The flat wires used by Lundis Bleus are made of pure gold. They measure 0.40mm (0.016in) in height and from 0.05mm (0.002in) to 0.10mm (0.004) in thickness. Thanks to its extreme pliability, pure gold wires allow reaching an incredible refinement of the details. It is also this very pliability that makes it so difficult to work with. Blowing on a 0.05mm thick pure gold wire will twist it… You better have a steady hand while working with it !
The base plate for our enamel dials is usually made of sterling silver, but we sometimes use gold.
The creation of a cloisonné dial handmade at the Lundis Bleus workshop usually requires 8 to 15 firings and from 5 days to a full month of meticulous and demanding work, depending on the complexity of the design.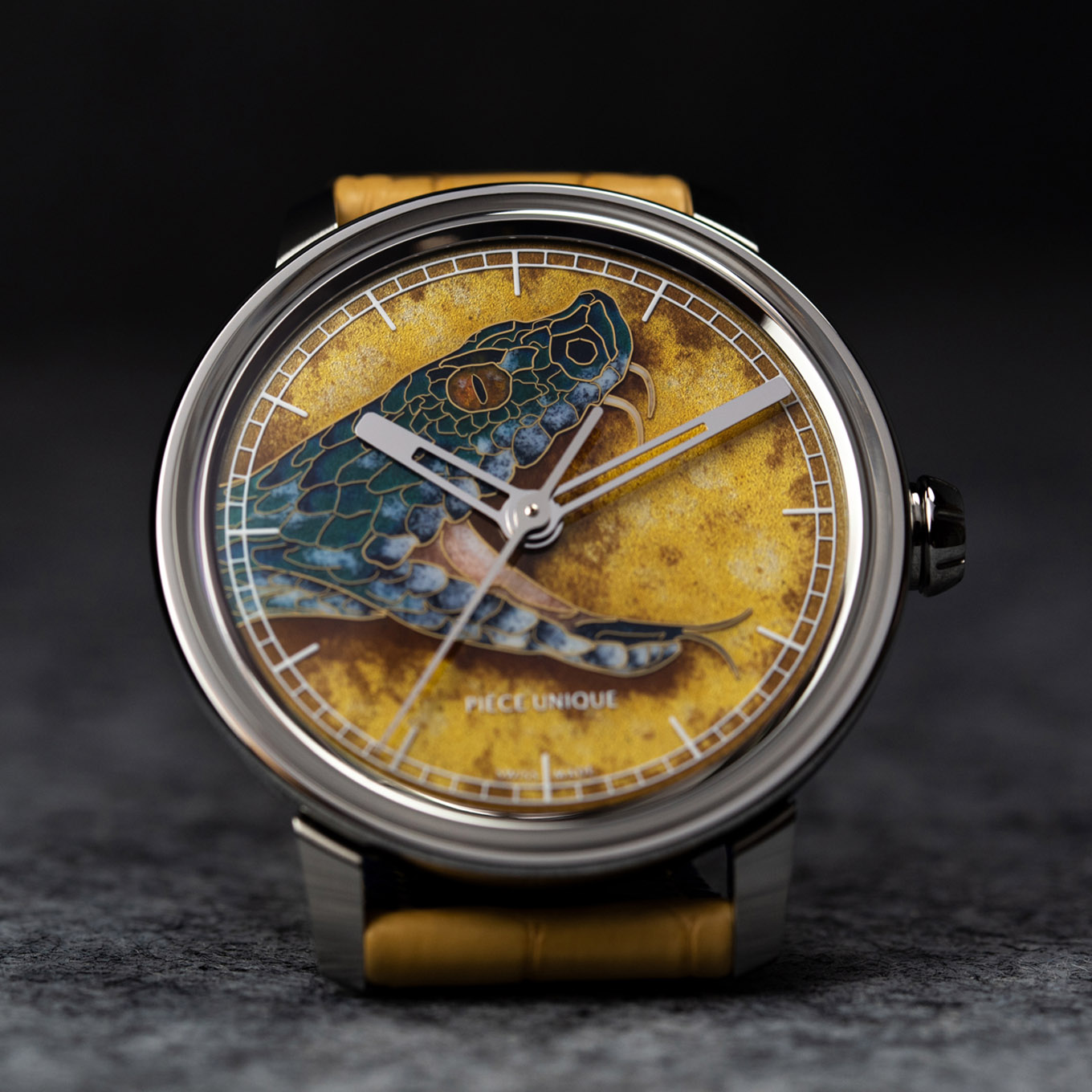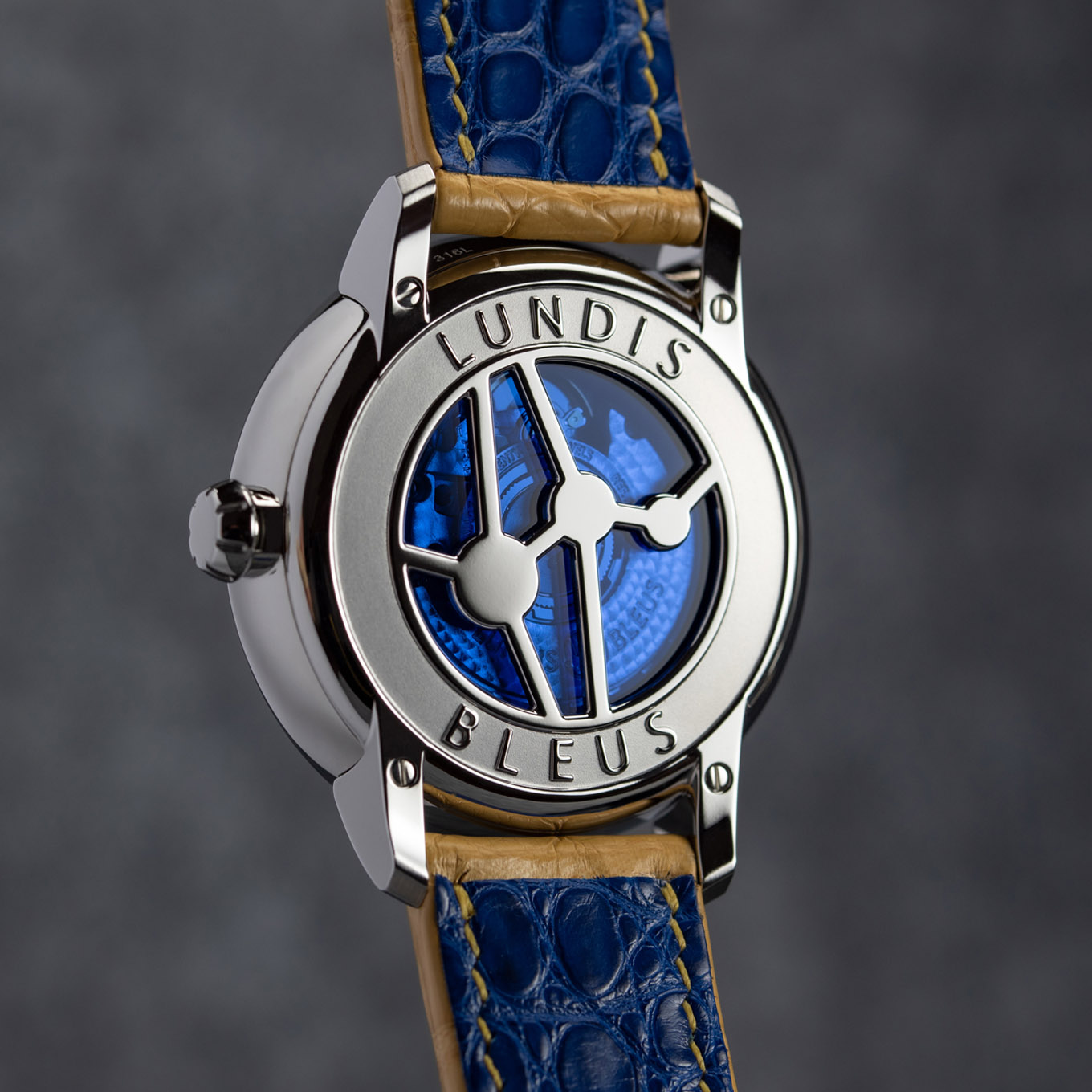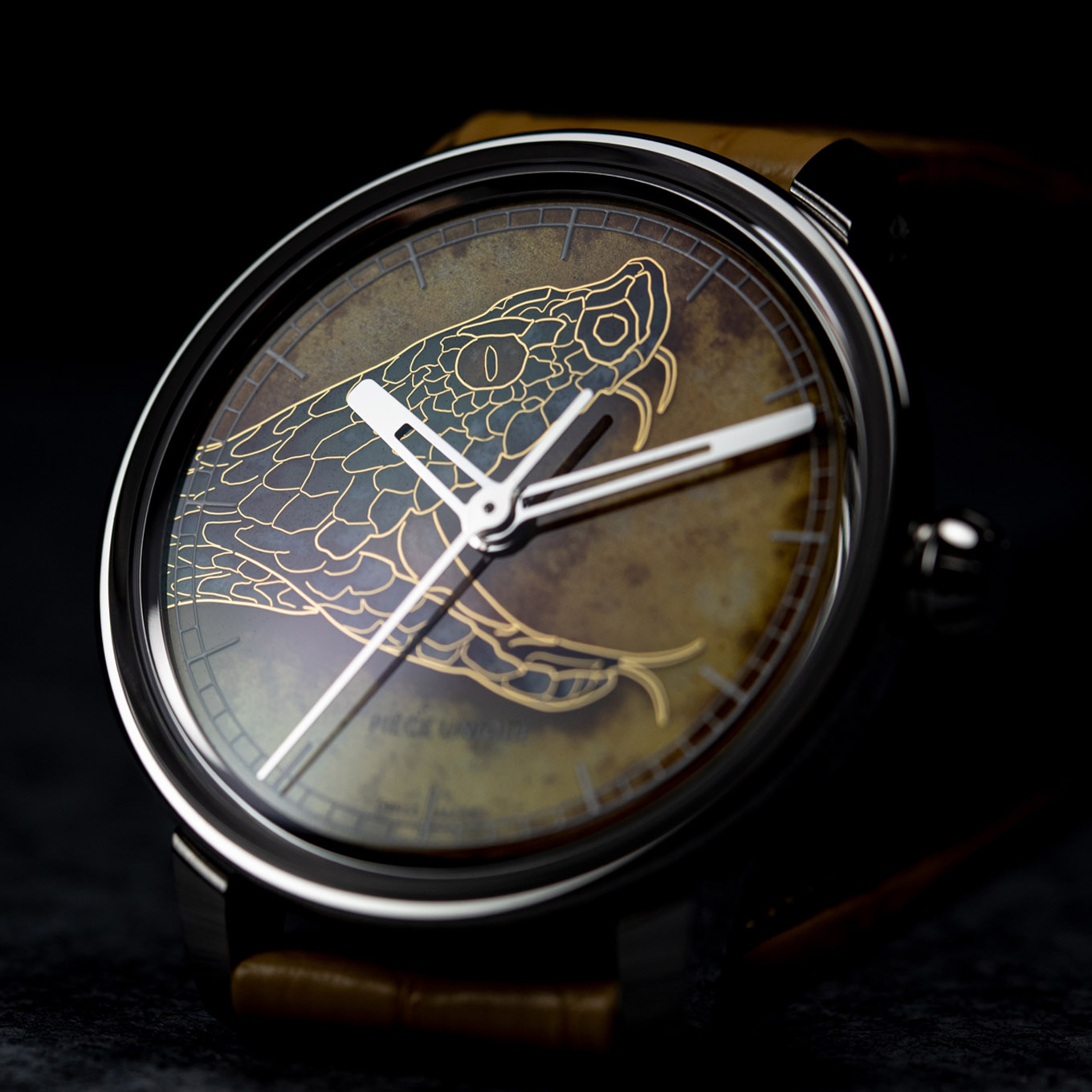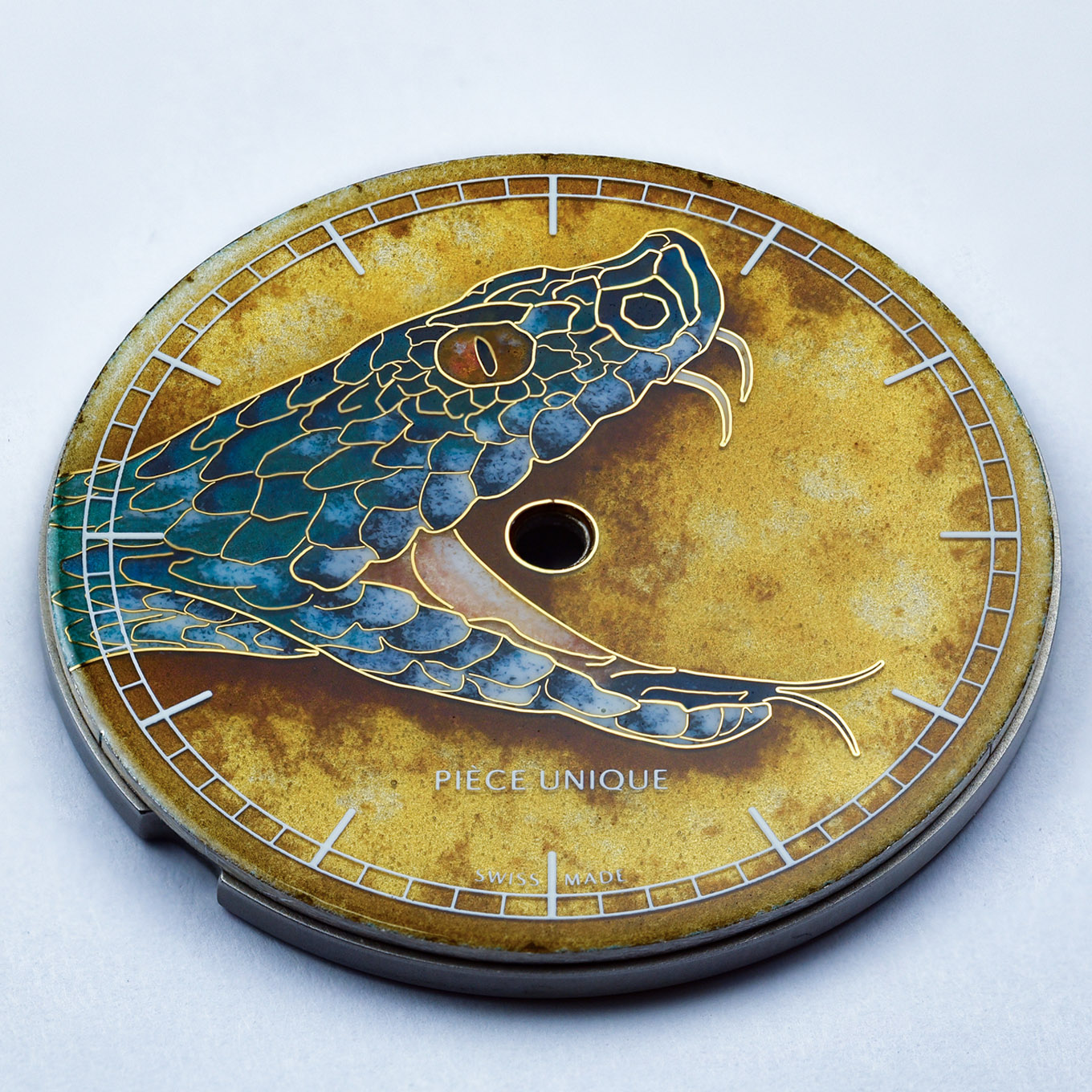 ---
Does this unique piece interest you? Contact us! 
The "Vipera Aspis Blue Green" unique piece is sold.
Do you have any questions about this exceptional watch? Would you like to reserve one of the future models of this rare animal-themed series?
Simply contact us at info@lundis-bleus.com and we will answer all of your requests !